---
In the realm of business operations, customization is key. Tally software, as a robust platform for business accounting, recognizes this need. As a result, Tally Add Ons were developed to customize and enhance the functionality of Tally software based on the unique needs of businesses. These add-ons cater to different aspects of business operations and help streamline processes further.
The relevance of Tally Add Ons in the business setup is indisputable. They allow businesses to tailor their Tally software to their specific requirements, improving efficiency and ensuring compliance with evolving regulations. Logictech brings you a selection of the best Tally Prime Add Ons to help your business flourish by boosting operational efficiency, ensuring regulatory compliance, and streamlining your accounting processes, all tailored to your specific business needs.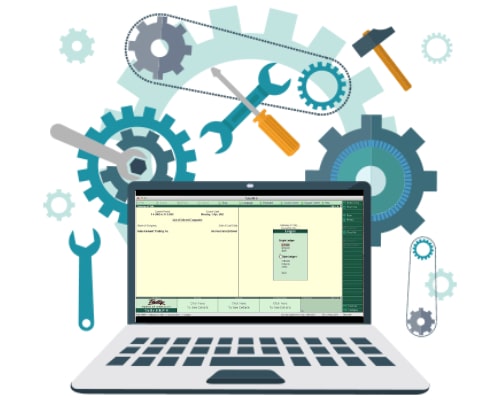 What Are Tally Add-ons?
Tally Add Ons are software modules that add specific features to the standard Tally Prime software. These add-ons enhance the functionality of Tally software, providing solutions beyond the inherent features of Tally Prime. From tally solutions add on to tally ERP 9 add ons, these modules cater to a wide range of business needs and operations.
How Do Tally Add Ons Work?
Tally Add-Ons work by seamlessly integrating with your existing Tally software. Once installed, these add-ons enhance the functionality of your Tally Prime, Tally ERP 9, or other Tally solutions, offering additional features tailored to your specific business needs.
Excel to Tally Import Utility
---
In today's digital age, businesses are increasingly reliant on data. This data is often generated and stored in different software platforms, leading to the need for effective data integration.
Voucher Approval Control in Tally
---
In today's business landscape, it is crucial to stay on top of operational matters, especially where finances are concerned. Precision, accuracy, and control are the linchpins of successful financial management.
Benefits of Tally Add Ons
Investing in Tally Add Ons brings a wealth of benefits:
Customization: Tally Add Ons allow you to personalize your Tally software according to your business needs, enhancing its overall functionality.
Increased Efficiency: By adding specific features, these add-ons streamline various business processes, resulting in increased efficiency.
Cost-Effective: Tally Add Ons offer a cost-effective way to enhance your Tally software without substantial investment in new systems.
Seamless Integration: These add-ons are designed to integrate smoothly with existing Tally software, ensuring a hassle-free experience.
Regulatory Compliance: Many add-ons are created to address specific regulatory requirements, helping your business remain compliant.
Why Choose Logictech for Your Tally Add Ons?
Logictech is a leading provider of Tally Add Ons, offering a wide range of solutions to enhance your Tally software experience. Here's why we are the right choice:
Variety of Options: We offer an extensive range of Tally Add Ons, catering to diverse business needs.
Quality Assurance: Our Tally Add Ons are developed and tested to meet the highest quality standards, ensuring reliable performance.
Customer Support: We provide outstanding customer service, answering all your queries promptly and effectively.
Tailored Solutions: We understand that each business is unique, so we provide customizable add-ons to meet your specific needs.
Continuous Updates: Our team continuously updates the add-ons to keep up with the latest advancements and regulatory changes.
Get Started with Tally Add Ons Today
Ready to enhance your Tally experience with our reliable and effective add-ons? Contact Logictech today and let's get started!