Tally Customization Solutions
---
Every organization during its journey creates its own niche which puts them into the growth path. This leads to unique business requirements which require to be incorporated in to the standard Tally Product .Business Growth demands change in business processes, securities & controls, Management Information Systems (MIS), automization at various levels, integration of different functions & software. The default Tally Erp9 is packed with powerful functionalities & feature which would address 90% of the businesses. The balance unique requirements can be incorporated by customizing . In a way provides best of both the world i.e. Packages software & customized software.
Customize Solution to fit in exactly the way your business or organization wishes to operate.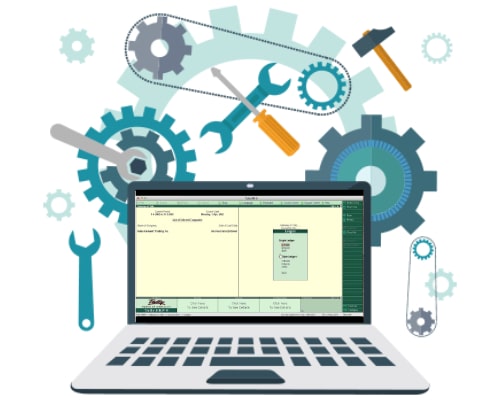 Benefits of Customization
Effective use of the Power of the standard software.
Increases user Performance & productivity.
Reduce cost of Business Operations.
Create significant business advantage over competition.
Tally Customization Process
Logictech interacts closely with the customers, understand their business functions, specific needs, processes & documents it. The team then checks how much of the requirement can be satisfied by using the default functionality of the Tally software. If there is a Gap, it is identified and taken up for Tally Customisation. In a way Logictech make sure that the customer takes maximum advantage of Tally strengths.
Tally Customization can involve the following
Alter the functionality, work flow and processes of the Tally software to fit the customers business requirement.
Make changes to user interface screen.
Creating more data fields in Masters & transactions.
Putting more security & control at field level or transaction level.
Customizing Invoice & other document printouts like Purchase order, voucher-cum-cheque.
Developing additional product functionality like export documentation, Material Requirement Planning.
Tally Integration involves data exchange between Tally ERP 9 & third party software.